How to Choose The Right Size Cubicles for Your Office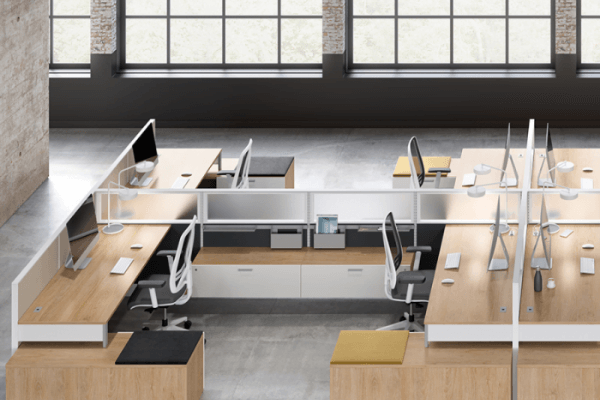 Table of Contents
Office cubicles have been with us for decades and are a great alternative to open up office spaces. They come in different styles and sizes. Knowing how to choose the right size cubicles for your office goes a long way in ensuring you have, among other things, the correct work ergonomics.
To most people, the word cubicle sounds old-fashioned. All that reflects on their mind are boring grey fabric panels and squares with three walls in an office. Note that cubicles have evolved significantly and can transform your space into a very functional and productive space. The modern cubicle comes in an array of shades, configurations, and is flexible. Besides, there are various partition materials to let you spruce up your cubicle as much as you want.
Choosing the Right Size Cubicles for Your Office
Several dynamics come into play when deciding the right size of cubicles for your office. The following factors will help you know how to choose the right size cubicles for your office:
Privacy level
Team size
The level of interaction between employees
Storage requirements
Desk size
Privacy Level
Privacy is crucial to some departments within an organization. For instance, the financial, payroll, and most top management departments require privacy to host meetings and make decisions. So, the cubicle wall sizes for such departments should be high enough to provide the required privacy. The booth-style office cubicles are perfect for such scenarios from their high walls and private doors.
Team Size
The departments within an organization have different team sizes. Therefore, you can't install cubicles of the same size across all departments. Modern office cubicles can be customized to suit different team sizes.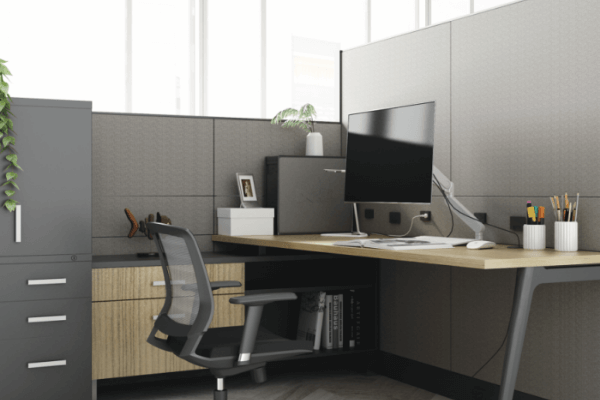 Interaction Level between Employees
Employees working within the same department and do similar tasks may need to interact often. In that case, you need cubicles with the right size of walls to allow communication flow. Low-walled cubicles are ideal for such cases.
Storage Requirements
Choose a cubicle with ample space for storage depending on the volume of stuff different employees have to store. There should be room for shelving and filing cabinets where employees can keep files.
Desk Size
The cubicle size you choose for a particular employee should accommodate his or her desk. The employee should be comfortable whether sited at the desk or standing. Plus, there should be space to draw the chair and push it back.
Benefits of The Right Size Cubicles
The concept of dividing your office into several workstations fosters teamwork, which increases productivity amongst employees. Communication among workers is open, and it's easy for team leaders to address their respective teams from one location. It also allows you to maximize spage.
If you don't have a conference room, it is easy to address your employees as a whole while sitting in their cubicles. There are cases where employees from different departments work on the same project. Installing low-walled cubicles facilitates communication across the departments when working on the project.
Cubicles also create a sense of equality among employees from the uniformity of workstations. Plus, the cubicles help you utilize your office space to the maximum due to their flexibility. You can expand them to cover unoccupied space. There are many different cubicle sizes from 4×4, 6×6 and 8×8.
It is easy to manage, monitor, and supervise employees when working at a place where you can quickly access them. By working in low-walled cubicles, employees watch their behavior when surrounded by a group of other employees. That, in one way or another, promotes discipline among your employees. Learn more about trending cubicle designs in our recent blog.
Modern Office Cubicles Costs
We understand our clients don't have the same financial capability. That's why we have a variety of both basic and high-end office cubicles. That way, you are sure of getting an option that suits your office requirements at an affordable cost.
From as little as $1200 for used cubicles or a very standard 6x6x39h per seat, however you can get a single basic unit that will serve you well. If your budget allows you to go high-end, we've got you covered. We have modern high-end office cubicles with prices in the array of $3500 to $14000. 
We Provide Exceptional Service at Competitive Prices
Office furniture online is the place to be if you look to furnish your office with modern and affordable office furniture. Consider office cubicles if your office space is so vast, and you would like to subdivide it into manageable partitions at a budget-friendly cost. We can help.
We can customize your cubicles to your unique office needs. This is something we've been doing for the last twenty-plus years, and our clients keep coming back for more. Please let us know your office furniture requirements. You have our word: satisfaction is guaranteed.