Executive Office Furniture
OFFICE FURNITURE WAREHOUSE HAS BEEN SERVING CORPORATE EXECUTIVES AND CEO'S THROUGHOUT MIAMI-DADE COUNTY PALM BEACH & BROWARD COUNTY AREA SINCE 1990 WITH MODERN AND EFFICIENT OFFICE FURNITURE SOLUTIONS
MIAMI OFFICE FURNITURE SHOWROOM
3411 NW 72nd Ave
Miami, FL 33122
(305) 266-4447
POMPANO OFFICE FURNITURE SHOWROOM​
2099 W Atlantic Blvd
Pompano Beach, FL. 33069
(954)968.4700
FEATURED Executive Office Solutions For Floridians
GET YOUR FREE HOME OFFICE FURNITURE QUOTE TODAY
Executives who lead companies to success deserve high-quality office furniture. The right executive office furniture will showcase leadership and style as well as a sense of power that comes with having an executive title. Hitting the right balance with an executive office doesn't have to be hard. Keep reading to find out how to design the perfect executive office: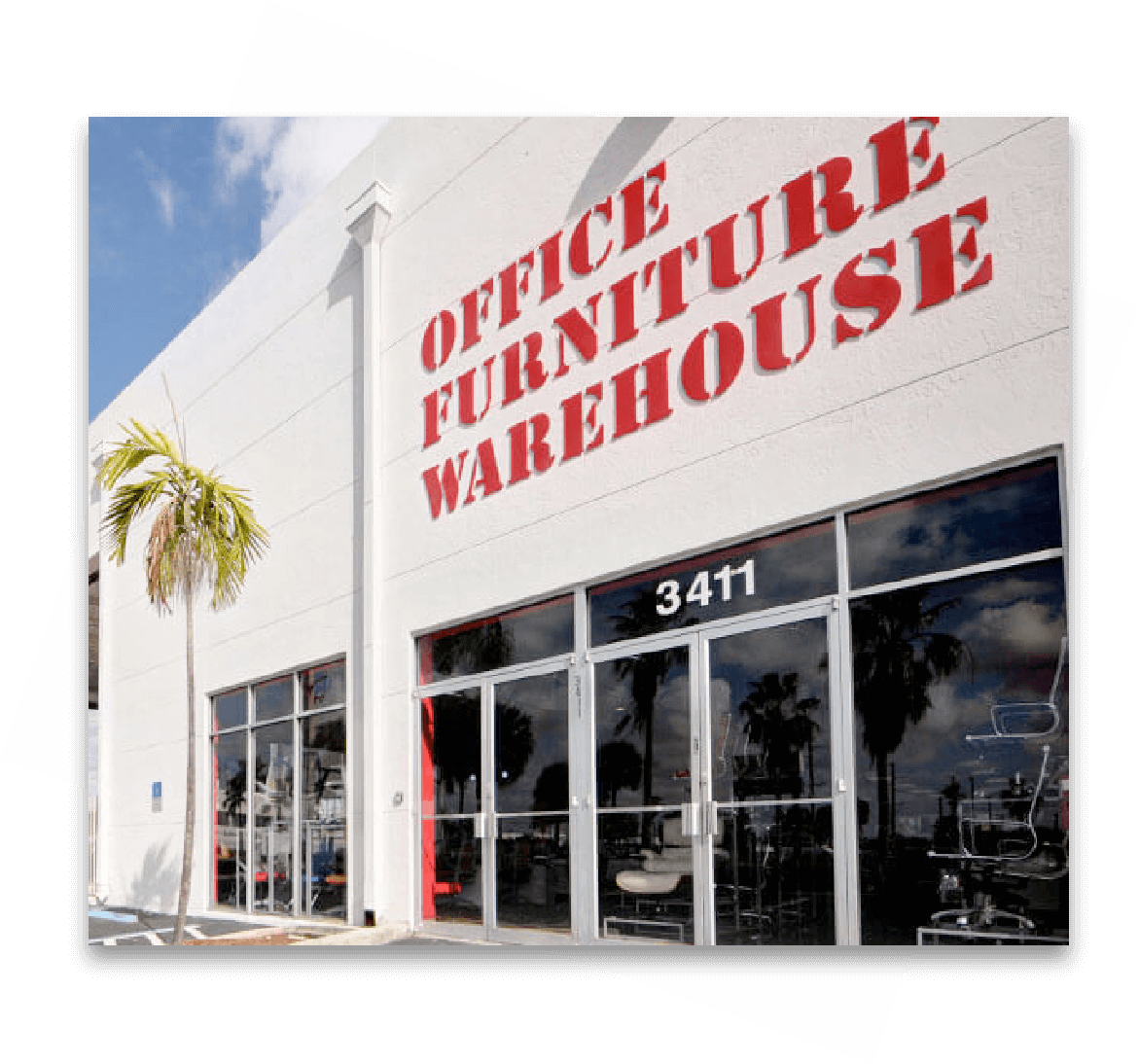 Executive office chairs encourage productivity and comfort
Busy executives will often spend countless hours on the phone or with clients and business associates in their personal office. Comfortable executive seating makes sure company leaders are comfortable working late into the night and relaxed when dealing with the stress of managing a company.
Executive office chairs are perfect for these tasks – they are often spacious and comfortable, making it easy to spend a long day at the office while remaining focused and alert. An individual can select a classic leather executive chair, which conveys power and tradition, or go for something more modern and sleek. 
The important thing is to make a choice that will keep a leader comfortable each and every day.
Why a dining chair has no place in your home office
Executive desks showcase company themes
An executive workstation should reflect the theme of a company, whether that is modern and bright or classic. Classic wood executive desks are popular because of the fine balance between function and style. One can choose a large L-shaped desk for more space – many of these executive office desks come with built-in shelves for storing important b
ooks, files and individual mementos such as photos of family. 
Or an executive can choose a more contemporary executive office desk  to reflect a modern theme throughout a company. Tech executives, for example, may wish to select glass or metal desks. These functional, sleek designs show guests and clients that a company is up on the latest trends, which is important in a modern field. 
Companies don't have to spend a fortune on business furniture to impress clients, either. If a company is trying to save some money, used executive office furniture is a great way to go. High-quality secondhand office furniture can look brand new, but it comes with a budget-friendly price tag. A used executive desk may be just what an office needs.
Use executive office furniture and design to customize a space
Executive offices don't have to be boring – a little creative flair can help make a room both welcoming and impressive. One way to customize an office is to incorporate different lighting options. In addition to overhead lighting, desk lamps can illuminate a workstation while softening a room. 
Many desk lamps clip onto workstations, so they take up very little valuable space while still bringing in an extra element of comfort and practicality. At the end of a day, when most of a staff has gone home, an executive can opt to switch off overhead lighting and use a few lamps. This will save on energy costs while still offering enough light to keep working.
Executive office tables are another nice addition to an area. These tables, combined with a few task chairs and decorative elements, provide another surface to work on, as well as a separate space for more personal meetings. An individual can place a side table and chairs in the corner of a room where they can sit with clients and discuss new projects, removing the formality of interacting over an imposing desk. 
Plants are low-cost addition that bring in extra light and life to a space. Personal mementos and accent colors also work and will help executives feel comfortable in their environment.
Why Choose OFW To Help Build Your Executive Office in Florida?
Largest selection of office furniture inventory in Florida
Save up to 80% every day on used office furniture
Reputation for excellent client care and service in Miami and Fort Lauderdale
Unparalled industry experience
Quality office furniture at a competitive price.
Timely delivery and installation to your office in Miami.
Complimentary office space planning on selected products.
"My company tripled in size over the past several years, and Office Furniture Warehouse was there with me every step of the way. From selection to delivery to set-up and beyond, their professionalilg, service and experience helped make the transition a successful one, and enabled me to devote my full time and attention towards operations – not office furniture. –
Robert F. Cromwell – Cromwell Industries – Miami, FL
Now is the time to invest in high-quality executive office furniture
UNPARALLELED Executive Space Planning
Not only will new and used furniture from Office Furniture Warehouse be better quality than brand-new assemble-it-yourself furniture, it will be sure to last as business thrive, grow and change years in the future.
LINKS tO Home Office Resources
News updates, tips and worthy links for businesses owners that work from home.
Do you want an at-home workspace to help you stay productive and happy? You can make working from home a joy by …
Whether someone is a home-based entrepreneur or has the luxury of working remotely, office workstations should be ergonomic. Unlike their more traditional …
Business furniture can do more than just provide a place to sit and work each day – the right furniture can make …