OFFICE FURNITURE IN FORT MYERS
SINCE 1990, OFFICE FURNITURE WAREHOUSE HAS BEEN SERVING CLIENTS OF ALL SIZES! FROM MEDIUM SIZED BUSINESSES AND LEGAL OFFICES, TO FORTUNE 500 COMPANIES, LARGE CORPORATIONS, AND HOME OFFICES, WE HAVE EVERYTHING THAT YOU NEED TO SUCCEED.
2099 W. Atlantic Blvd.
Pompano Beach, FL 33069
(954) 968-4700
HOURS OF OPERATION
Monday – Friday: 9 am – 6 pm
Saturday: By Appointment Only
Sunday : Closed
FEATURED FORT MYERS OFFICE FURNITURE
SOLUTIONS FOR LARGE FACILITIES, HOME & SMALL OFFICES
Whether you are starting a small business in Fort Myers, expanding an existing one, managing large facilities or creating business environments for your clients, our account executives will help you develop office furniture implementation strategies that just make sense.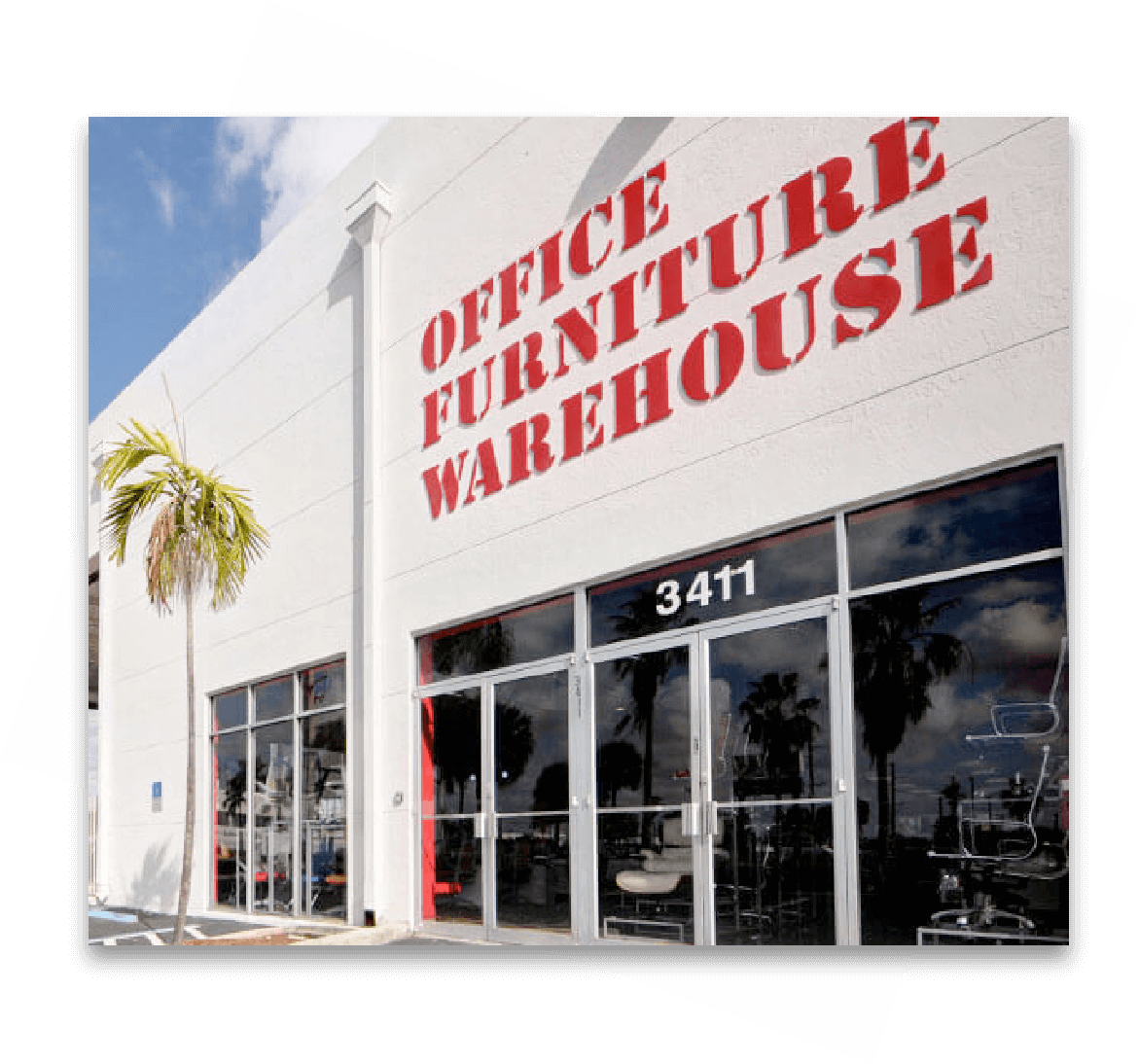 SOLUTIONS FOR HOME OFFICES AND COMPANIES OF ALL SIZES
We know office furniture. And we're here to provide the best solution for your office needs. If you need to increase efficiency and add employees, but do not want to move offices, we have a number of modular options and cubicles that will help you utilize more space without making your employees feel crammed.
Our long term success is attributed to our unique understanding of many different types of industries. We've catered to educational institutions, home offices, law firms, call centers, doctors offices, financial centers, executive suites, and every type of office situation imaginable.
IN-STOCK PROGRAM: FASTER TURNAROUND
We have over 75,000 sq. Ft of warehouse space and possess a huge inventory of new and used office furniture to provide to any business in Fort Myers. At a moment's notice, we can deliver premium office furniture to your place of business.
Take a look around our website. It's a shopping cart with no obligation. Select all of the furniture you need, submit a request, and get an online quote or visit one of our showrooms!
Quick implementation of quality office furniture solutions is what we do. Select from a plethora of colors, materials, and brands, and achieve the look that you've always wanted.
Save up to 80% on Used Office Furniture in Fort Myers
Our comprehensive selection of used furniture will save you hundreds if you need to outfit a new office. From training rooms that need a fresh attitude and conference rooms that need a shiny new table, to executive suites and creative offices, our huge selection of refurbished and like-new furniture will provide the absolute best bang for your buck.
Why Choose Office Furniture Warehouse?
Largest selection of office furniture inventory in Fort Myers
Save up to 80% every day on used office furniture
Reputation for excellent client care and service in Fort Myers
Unparalleled industry experience
Quality office furniture at a competitive price
Timely delivery and installation to your office in Fort Myers
 Complimentary office space planning on selected products
"We could not be more pleased with the service that OFW offered to us,from start to finish...and subsequent additional furniture purchases."
QUESTIONS FOR BUSINESSES IN FORT MYERS
Yes, we provide you with prompt, on-time delivery and expert
installation, followed by the highest level of ongoing service and
support in Fort Myers to accommodate your future growth/expansion needs.
Yes, for all office furniture we sell, we will beat any legitimate
price from a local store in Fort Myers carrying the same stock item. We will
provide your business with the most cost effective solution that fits
your budget.
Yes, we have decades of experience in configuring office furniture for businesses of all sizes in The Fort Myers area.
REPUTATION FOR EXCELLENCE CLIENT CARE AND SERVICE
Whether you are looking for luxury furniture to create an elegant, high-end look or if you prefer the cool, creative and funky look or the minimalist, high-tech look, you will work closely with our account executives and designers as they coordinate, manage and supervise your project to ensure you are satisfied with the unique office furniture solution we provide.
UNPARALLELED INDUSTRY EXPERIENCE
At Office Furniture Warehouse, we attribute our lasting success to understanding the specialized needs for industry sectors like law firms, real estate, call centers, schools and educational institutions, city, county and state-level government offices, medical doctor offices, banks, financial centers, corporate and executive office centers along with the hotel and travel industry.
LINKS tO BUSINESS RESOURCES iN FORT MYERS
News updates, tips and worthy links for businesses owners and managers in Fort Myers

The Fort Myers Chamber of Commerce provides membership benefits and networking opportunities for businesses throughout Fort Myers Dade county area