Choosing the right law office furniture can be tricky. Should a firm go for a modern design or stick with traditional design schemes? One must also consider seating options for staff and what image a law firm wants to present to clients and colleagues.
With a bit of planning, though, designing an office landscape for a law firm can be easy and fun. Keep reading to find a few tips on how to design the perfect law office:
CHOOSE THE RIGHT LAW OFFICE FURNITURE FOR EVERY SPACE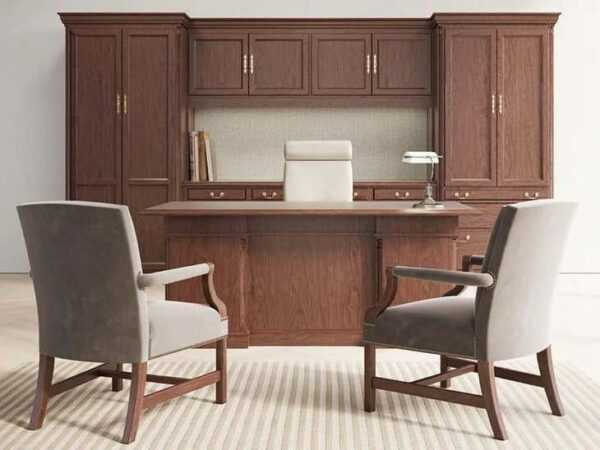 Before delving into a completely new design scheme, an office manager or partner should consider what space available. Utilizing current space, fixtures and amenities is one of the best ways to approach the design process. Thinking this through will give a manager an idea of what needs to be done to change an office environment, as well as what can feasibly be accomplished with a specific budget in mind.
Spaces with plenty of natural light and high ceilings may benefit from updated and modern business furniture, while smaller offices may be better suited to adopt a classic style. When operating on a budget, it's important to think of how much can be done within the existing space.
There are simple things that can be done to transform a law firm, whether it's saving money by investing in secondhand business furniture or focusing on a color theme. A new coat of paint, for example, can liven a space in an instant. Replacing a worn-out coat of beige paint with a soft white or bright gray shade, or choosing an accent color to highlight moldings and trim can completely change the look and feel of an office.
FIND HIGH-QUALITY LAW OFFICE FURNITURE FOR SALE
Once a firm has a full grasp of the space they are working with, it's time to pick out the right furniture. There is plenty of high-quality law office furniture for sale, which can both increase productivity and improve business on a daily basis.
If there is one thing a law firm should invest in for each of its workers, it's a solid ergonomic chair. Ergonomic chairs encourage productivity and a strong work ethic, both significant requirements for any law firm employee.
They also can reduce employee absenteeism. One of the most common reasons behind unexpected doctor visits is back pain. Ergonomic chairs support the back and neck and encourage proper posture, which reduces aches and pains.
A healthy worker won't need to take as many sick days and will find it easier to dedicate themselves to work while they are comfortable and happy.
INCORPORATE LAW OFFICE FURNISHINGS INTO AN IDEAL OFFICE LAYOUT
The arrangement of desks and the use of space are extremely important, as the right office workstation not only provides ample space for an employee to carry out daily tasks, but also help set the tone for an office.
The type of desk – whether it is wood, glass, L-shaped or small – is important to establishing an office environment, but what truly conveys a company's style is the office layout. For example, office cubicles are popular among law firms, as they provide a bit of privacy between employees.
However, many modern law firms are finding success with open layouts – these landscapes take down the walls between workers and promote collaboration. An open design also allow more natural light to filter in, which will illuminate the law office furnishings a manager has so carefully chosen.
When it comes to revamping a law office, it's always up to the individual firm and how they wish to represent themselves. With a little creativity and planning, an office manager can create a balanced, functional office that promotes the values of a firm.
Visit the Office Furniture Warehouse website to find the perfect law office furniture today!