OFFICE FURNITURE WAREHOUSE HAS BEEN SERVING HOME OWNERS THROUGHOUT MIAMI-DADE COUNTY PALM BEACH & BROWARD COUNTY AREA SINCE 1990 WITH AFFORDABLE AND QUICK SOLUTIONS
MIAMI OFFICE FURNITURE SHOWROOM
3411 NW 72nd Ave
Miami, FL 33122
(305) 266-4447
POMPANO OFFICE FURNITURE SHOWROOM​
2099 W Atlantic Blvd
Pompano Beach, FL. 33069
(954)968.4700
FEATURED Home Office Solutions For Floridians
GET YOUR FREE HOME OFFICE FURNITURE QUOTE TODAY
It's one thing to buy furniture to fill a corporate office space, but it's another to buy home office furniture to furnish a spot in your own house. Because your home-based business or office isn't the primary purpose for the room, it's imperative the area works for you, your work and your family.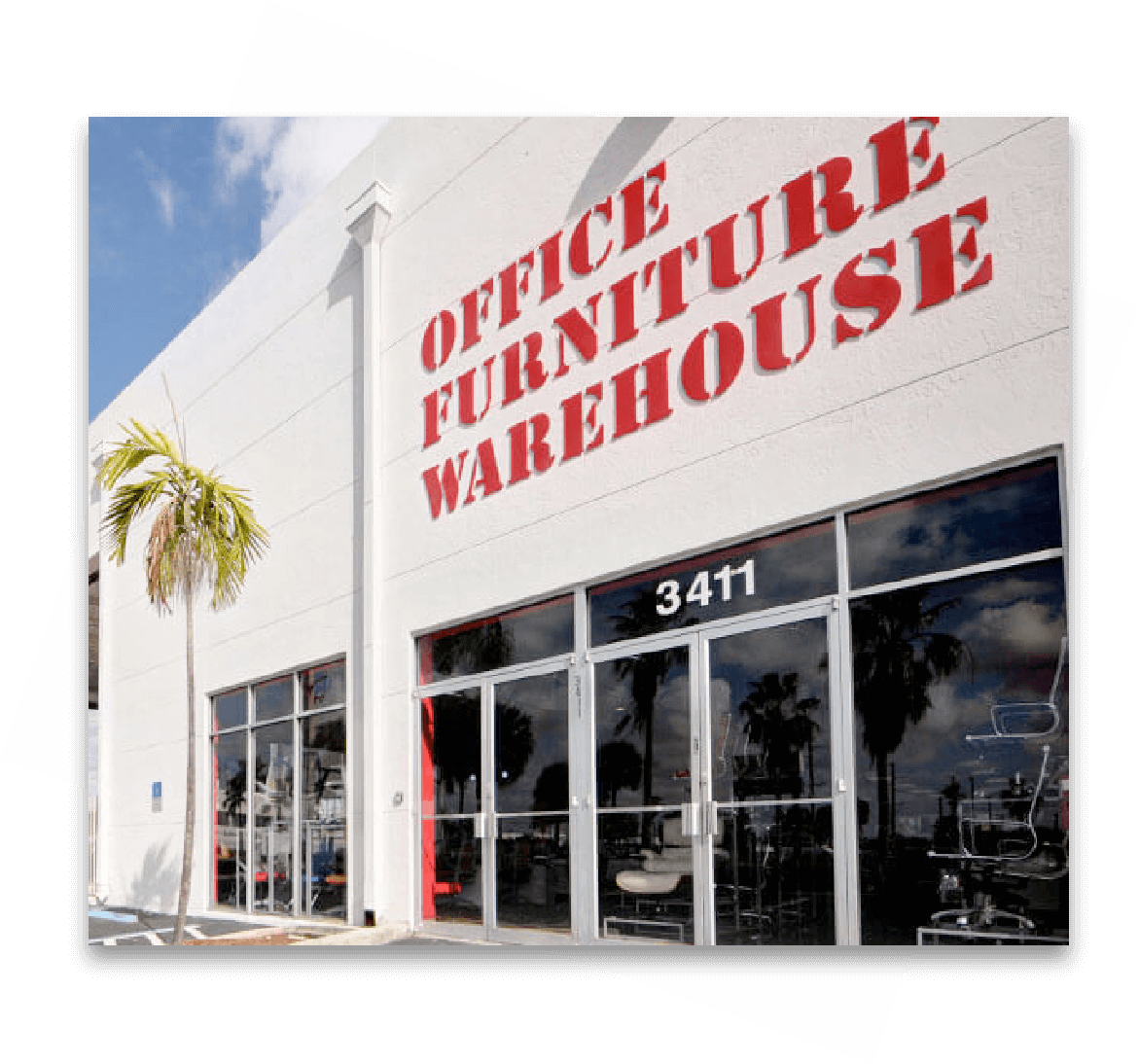 What products should you choose for your home office?
Today, creating a space conducive to working from home is more important than ever before. Recent studies have shown more companies are offering their workers flexibility in working from home, which is important to modern families managing a healthy work-life balance. This not only saves money in childcare and transportation, it can create a more laid-back business culture.
But working on a couch, in front of a TV or at a cluttered dining room table won't get the job done, especially when distractions pull you away from your work. Even worse, it can affect your posture, cause back pain and bring on more serious spinal problems down the road. The key is setting up a designated home office, complete with home office furniture … but where should you begin?
As any online search will reveal, there are unlimited furniture options that homeowners can choose from when designing the most effective home office possible. As a result, it's easy to get sidetracked, overwhelmed or tempted to buy low-quality furniture because of its cheap prices.
You don't want to scrimp on home furnishings though, and you will want your office's appearance to collaborate with the design of the rest of your home. Small spaces, or rooms of the house that have a secondary purpose, can benefit from an Lazio High Back Chair. Not only will a screen be high back chair be effective in separating work spaces from distractions, they make fantastic backdrops that promote productivity and further your home's existing design elements.
When selecting a desk for your home office space, you won't have to sacrifice personal style for quality home office furniture. In fact, buying large pieces from the professionals at Office Furniture Warehouse means you can choose from a variety of new and secondhand furniture that suits you and your personal style perfectly. You'll find items like Global Keyboard Support Tools, storage units are more like works of art than clunky workspaces.
Why a dining chair has no place in your home office
Just because you like the seating around your kitchen or dining room table doesn't mean it should be used in your home office. Investing in a comfortable, ergonomic office chair has more benefits than simply being attractive – it can be key in avoiding painful medical problems and spinal issues in the future.
Office chairs aren't clunky eyesores anymore; in fact, they can be attractive conversation-starters that co-workers, clients and house guests are sure to comment about. Performance work chairs are durable, supportive and encourage movement that promotes spine health.
But who says home office seating has to consist of typical office chairs, especially if the seats will be used elsewhere in the home when clients aren't visiting? Eames molded plywood and plastic chairs, wire chairs and Nelson swag leg chairs are stunning and iconic, making your home office feel more stylish than you ever thought it could be. 
Don't forget
 

sleek, useful home office accessories

Designing and furnishing a home office involves much more than buying a desk and several chairs; high-quality Herman Miller office accessories guarantee a positive workflow and are attractive enough to be seen in your home. 

Lighting is key to preventing eye strain, and the mountable, energy-efficient Ardea personal light and Leaf personal light will make it easier than ever to see all your important documents. Herman Miller bookends, document trays, file holders and shelves are stylistically pleasing and keep all your most-used office supplies organized and within reach. 

Home office security is another concern for many, but filing cabinets and storage units don't have to be unsightly. Herman Miller filing and storage solutions are available in unique configurations for home offices of just about any size. Don't risk your clients' confidentiality or your home's style.
According to Entrepreneur magazine and interior designer Jo Heinz, there are several questions you need to ask yourself before designing an office and committing to a home office design, layout and products:
What type of work will I be doing in this space?
Will clients or colleagues join me in this space?
How much work material will need to be stored in this space?
What equipment and home office furniture are must-haves to do the job efficiently?
Does my home office have a second purpose, such as a guest bedroom?
Once these questions have been answered, contact Office Furniture Warehouse to see what furniture fits your home office needs and work initiatives.
Why Choose OFW To Help Build Your Home Office in Florida?
Largest selection of office furniture inventory in Florida
Save up to 80% every day on used office furniture
Reputation for excellent client care and service in Miami and Fort Lauderdale
Unparalled industry experience
Quality office furniture at a competitive price.
Timely delivery and installation to your office in Miami.
Complimentary office space planning on selected products.
"My company tripled in size over the past several years, and Office Furniture Warehouse was there with me every step of the way. From selection to delivery to set-up and beyond, their professionalilg, service and experience helped make the transition a successful one, and enabled me to devote my full time and attention towards operations – not office furniture. –
Robert F. Cromwell – Cromwell Industries – Miami, FL
How Office Furniture Warehouse can help you design your home office ​
When growing businesses make the decision to start having employees work from home or an entreprenuer wants to build out an office, productivity is key.  When buying home office desks, cubicles, chairs – even sound canceling items – it can be much more cost-effective to purchase high-quality used call center furniture.
UNPARALLELED Home Office Space Planning
Not only will new and used furniture from Office Furniture Warehouse be better quality than brand-new assemble-it-yourself furniture, it will be sure to last as business thrive, grow and change years in the future.
LINKS tO Home Office Resources
News updates, tips and worthy links for businesses owners that work from home.
Do you want an at-home workspace to help you stay productive and happy? You can make working from home a joy by …
Whether someone is a home-based entrepreneur or has the luxury of working remotely, office workstations should be ergonomic. Unlike their more traditional …
Business furniture can do more than just provide a place to sit and work each day – the right furniture can make …