The Important Things You Need To Know About Cubicle Installation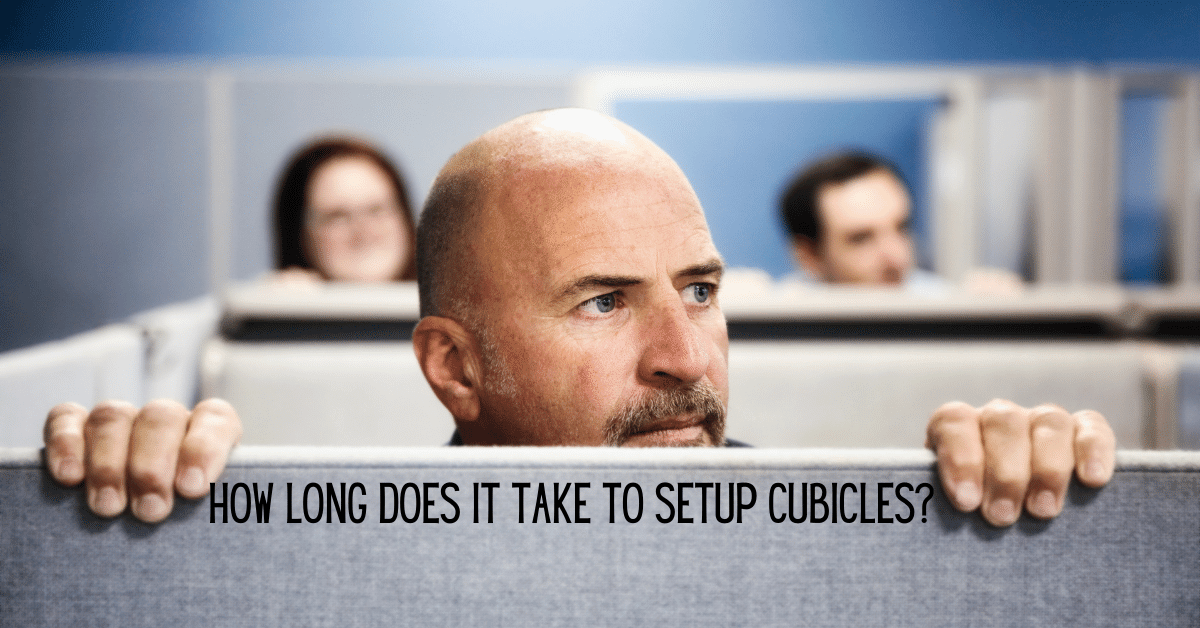 Perhaps you are shopping around for a cubicle system or have already bought one, and you are thinking about installation. Should you do it yourself? Should you let the maintenance team handle it? Even thinking about the next steps can be overwhelming during the installation process. So let's take a look at all the factors involved and consider who should do the hard work.
Table of Contents
How Long Does It Take To Set Up Cubicles
On average, a single cubicle can take around 4-6 hours for installation. It depends on what type of cubicle panels and accessories are involved. Here is a list of things to think about for a single cubicle:
desk space and other office furniture
it's proximity to existing cubicles
electrical wiring, wall outlet, and power strip
overhead storage
filing cabinets
You won't be simply putting cubicle walls in place; you will be designing new office space for your employees. But, of course, the more involved, the longer it will take to set up.
When To Hire An Installation Team
In short, we recommend everyone hire an installation team. These are highly trained individuals with any cubicle system and are much quicker than your average person. In addition, many companies want to save money by using their own maintenance team or even the IT department. So when should you hire an install team? Any of these situations call for a professional:
Starting a new office that requires a lot of cubicles to be installed
If there are a lot of electrical maneuvering for power strips and outlets to be dealt with
If you don't have enough employees to carry out the work in a timely fashion
If you have decided that you and your team members will install the office cubicles, keep reading to see what you should do next.
Prepare The Cubicle Layout
Before installation, and honestly, before purchasing your cubicles, the office needs to be measured. Taking the tape measure to every wall, window, and work surface is important for the best office design.
Measuring where the cubicle goes needs to include cubicle sizes, office chairs, work surfaces, and any other furniture necessary. Mapping out the open space for walkways and common areas is also a must. If you are setting up a call center, making the most of the space available has to happen to ensure all your employees working can move about and get the job done.
Don't forget to plan for lighting systems, natural light, and any art in your installation plan.
Follow The Cubicle Assembly Instructions To A T
If you are someone who uses assembly instructions as reference material, stop doing that. Instead, you will need to follow these plans carefully. When they first arrive, make sure all the components are present. Here is what you can expect to find in your kit:
Cubicle panels
Overhead bins
Worksurface
Any other storage options
Connector plates of various types
As a general rule, you will need to supply your own tools to get the job done. Those include:
Allen wrench
Flathead and Phillips screwdrivers
Drill
Tape measure
Hammer or rubber mallet
Magnetic level
This would be the perfect time to get your maintenance team on board, as these are all tools they use regularly. Make sure to be patient with yourself if you have never installed cubicles before. We tell our folks that it is best to plan on installing cubicle panels over a weekend or some time outside of business hours. The fewer people around, the easier it will be to maneuver the installation.
Let Our Experts Be Your Saving Grace
We are the leading experts for new and refurbished cubicles, and we are here for you. When you talk with our experts about the best options in cubicle size, panel heights, and materials, you will walk away satisfied. Then, let us come in and install them for you so that you don't have to do more than necessary. So call today; you won't be disappointed!
Want A Free Quote?
Click the button and leave your information. One of our experts will contact you!

Click Here