Best Cubicle And Workstation Designs In 2022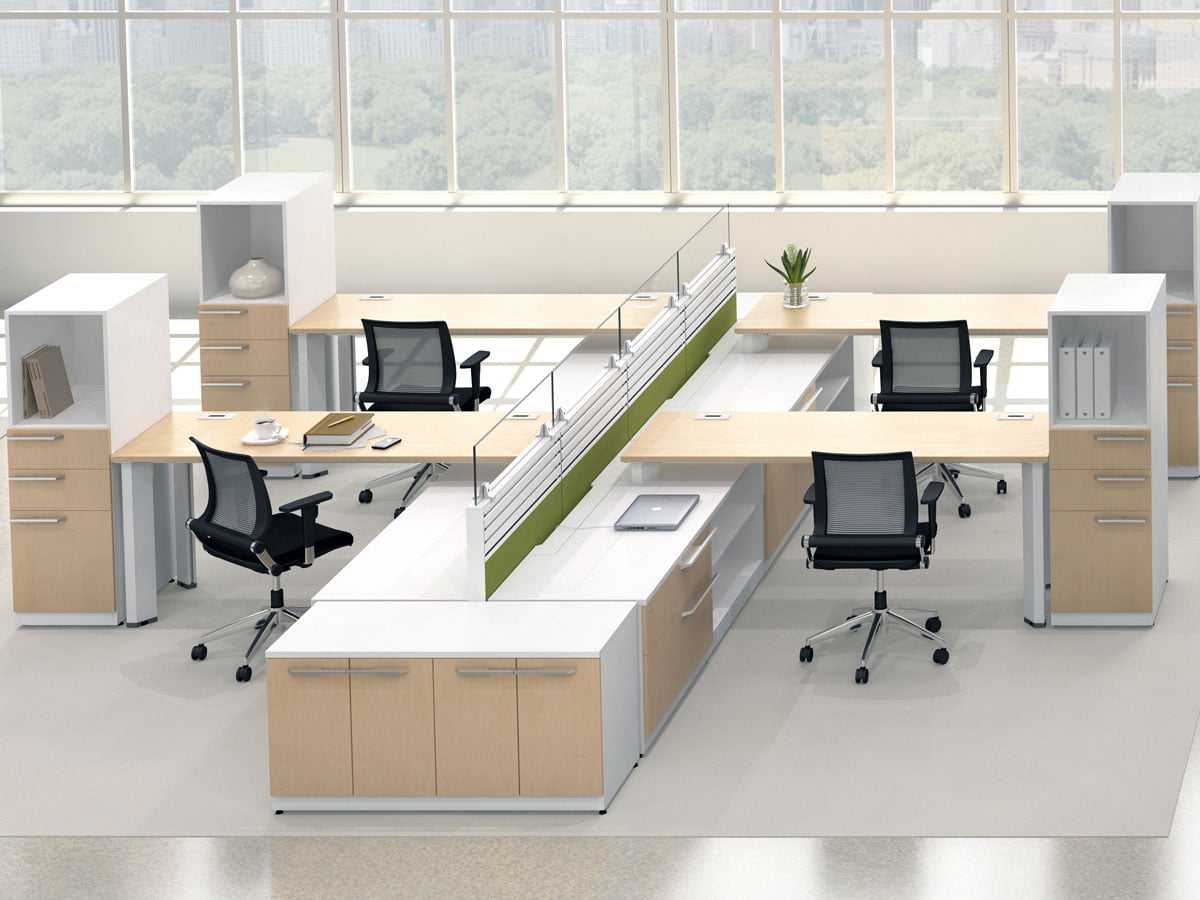 The right cubicles and workstations can make all the difference in an office space. Office Furniture can change how your customers view your business, and the ways your employees keep safe and management engages employees. The right cubicle and workstation configurations is essential. Open office plans have taken a backseat to safety during the pandemic to create safe workplace distancing options. As one of the largest office workstation and office cubicle suppliers in Florida, we see lots of different designs, materials and installation setups to maximize space and look aesthetically pleasing. With the right design, your office can look completely different. So we went ahead and shared the best tips tricks, and way to handle office cubicle and workstation implementation.
Choosing Your Cubicle Design
The right cubicles allow you to design, grow, and expand your employee count as your company grows. Furniture should be easy to build upon and add workstations as needs increase. Looking for the right panels for your business has never been so easy. This has become an increasing need in today's society and the market has responded with good looking and safe items for business owners to operate. You can get a totally new office cubicle systems, order used business cubicles, or piece together partitions by adding panels. Fabric, wood, and glass panel options are available to keep your work room looking the way you want it while maintaining workplace distancing protocols. Panels and benching systems come in fabric, glass, and laminate with many different color variations.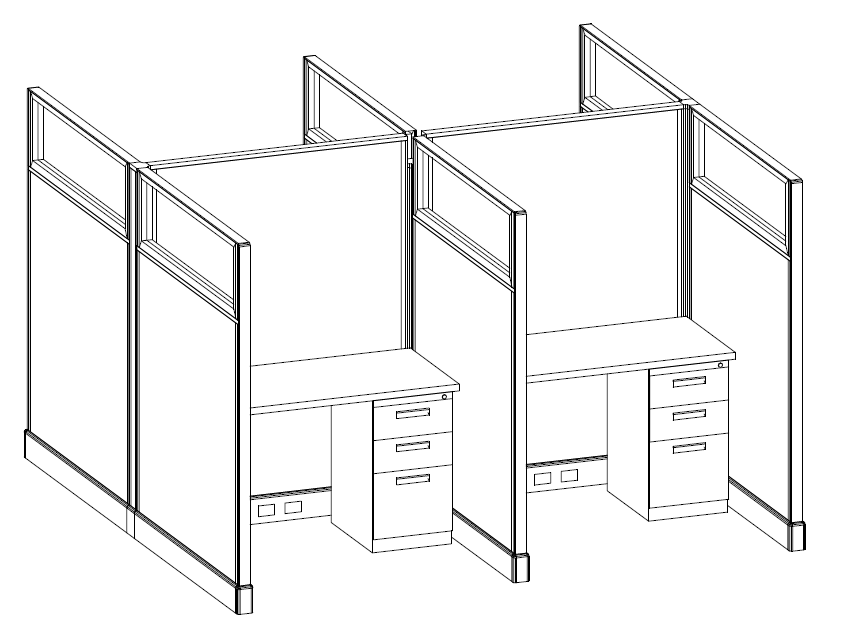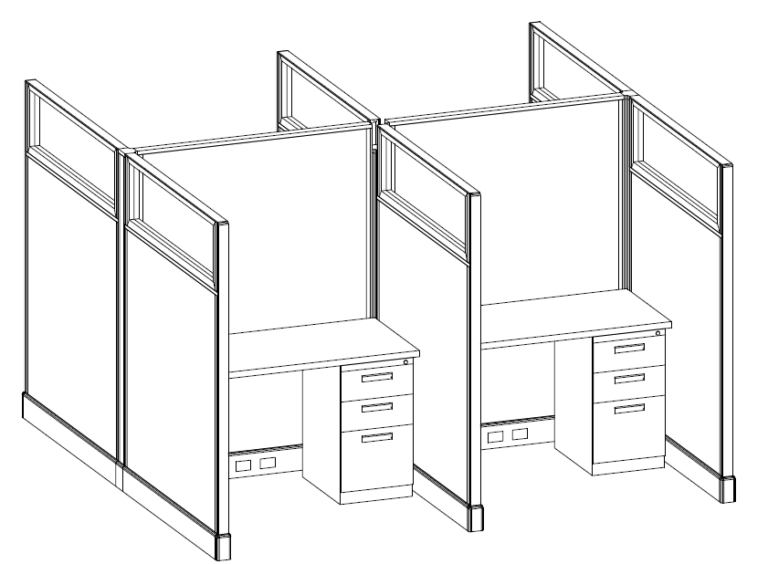 (PO-SYS-0007) Open Plan 4′ x 4′ Cubicle with Glass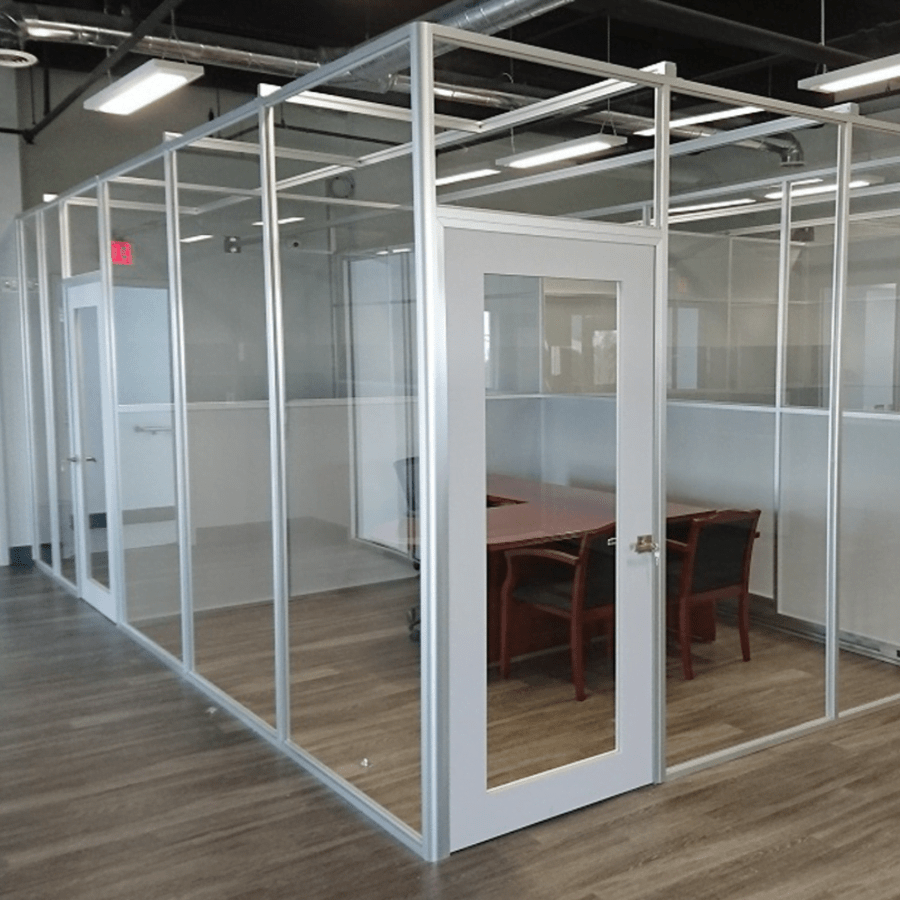 Open Space Cubicle Designs And Workstation Panels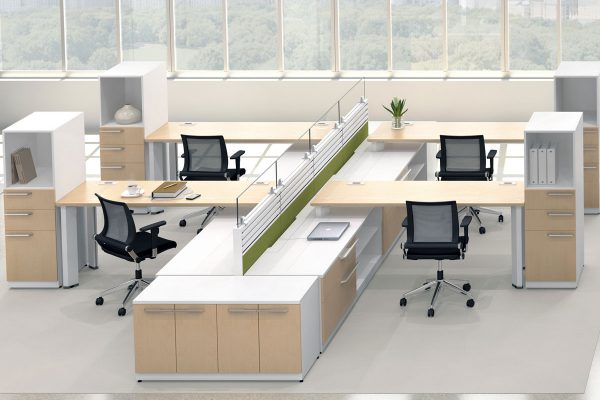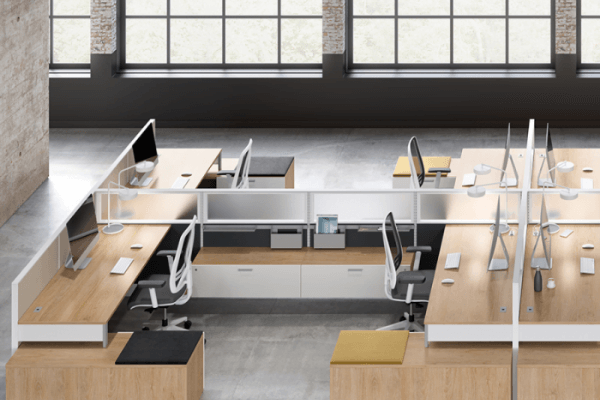 Office Cubicle And Benching Systems Designed For Comfort and Utility
These workstations come in many varieties with storage, adjustable desks, privacy walls. We stock cubicle and benching systems from Lacasse, Global, Friant, and many more manufacturers as well as our own InStock product line. In addition to having many different variations, we are the largest cubicle and workstation liquidators in the state of Florida so we keep the latest used cubicle furniture inventory on hand. Startups and large companies often utilize large open spaces to make their offices large, expandable, and appealing to customers. Our workstations fill the spaces, create safety, sound barriers, and are built with durable material. , Our workstation furniture provides the best design and help to efficiently fill space. Shop all custom commercial cubicle and workstations
Our Work Station accessories allow cubicles for employees to become fun, easy, and efficient. Privacy Screens and panel resources are easy to add on. The best panel systems are very affordable and we also have in stock and used options for businesses that want price effective options. are windowed privacy screens that allow quick creation of portable cubicles or temporary workstations. The acoustical fabric provides some sound-dampening, while the built-in polycarbonate window allows some visibility while maintaining employee privacy. Create effortless cubicles, workstation dividers, or testing areas.
Second Hand and Used Cubicles
Office Furniture Warehouse carries the largest in stock office furniture selection of used, pre owned, second hand cubicles as well as clearance cubicles in the state of florida. See our selections below or shop all second hand cubicles here.
Accessorize Your Cubicle With Furniture Products
We carry computer support, keyboard support, monitor support, paper management, power and charging stations as well as wire management. These cubicle accessories get rid of clutter in the workstation. We also provide tabletop privacy screens, these designs provide privacy while adding a design aspect to any cubicle or desk workstation. Having privacy can improve employee focus, productivity and concentration affordably, or create private testing stations on any tabletop. Shop all cubicle and workstation accessories.
History Of Cubicles: And Why They Are Making A Comeback
Cubicles came to popularity in the 19560's. If you ever watched mad men on TV you know that the 1930s were filled with corner offices and glasses of bourbon in the workspace. so what changed? Robert Propst, a designer for  Herman Miller, came up with a design for the first cubicle. Propst studied how people worked and wanted to improve on the open-bullpen office that many had grown up with during that time.
The Rise Of Cubicles
Corner offices were sheek until around the 1950's and 60's when companies fell in love with cubicles because they saved money. It didn't happen right away, but once companies realized they could cram more people into an office and save money, companies all of the US started buying cubicles at alarming rates. The office furniture industry took a major shift because it became possible to fit more employees into a space without putting up structural walls and permanent structures. Large companies hopped on the bandwagon and started implementing modular desks and cubicle office furniture which allowed them to fully utilize their space.
The Cubicle Dark Ages
Forbes published an article in 2016 that said this about cubicles"Problem is, employees hate cubicles, so much so that negative, mocking references to them became a major "thing" starting in the late 1990s. Ever seen Office Space or enjoyed a Dilbert comic strip? Employers should probably hate them, too, though. A recent study conducted by Oxford Economics reveals that employee satisfaction and productivity are affected quite negatively by distractions in the workplace caused by cubicle setups. They got a bad wrap because cubicles were very commonly utilized in call centers where employees had to make hundreds of outbound calls per day and face rejection.
The Second Coming Of Office Cubicles
So why are cubicles still popular. For one, cubicles don't look the way they did in the 1960s. Companies have innovated and created accessories where cubicles can now feel more like a home than a cramped space. Similarly, they are still price effective. In 2020, cubicles have again made a major comeback because of the pandemic. Office cubicles are safe and adhere to workplace distancing guidelines. Desks can be adjustable in height while employers can shop for partitions without having to get a completely new office. This keeps everyone in the office safe and happy while maintaining price, job security, and health. Reimagining cubicles to be comfortable instead of feeling like a prison cell is possible.
Benefits of Office Cubicles
Office Cubicles are cost-effective when compared to other office furniture.
Employers can create designs and styles beyond their imagination utilizing fabric, laminate, and glass to customize workstations.
Ergonomic chairs help employee posture back support and satisfaction.
It's easy to have adjustable height desks that make office furniture fun and responsive.
Employers enjoy being able to plug and play furniture in their business instead of having built-in wall structures that are permanent and require a contractor.
Partitions are built with solid materials that are durable and stand the test of time.
Room and space planning is easy when you get the right workspace products.
Service and installation is customary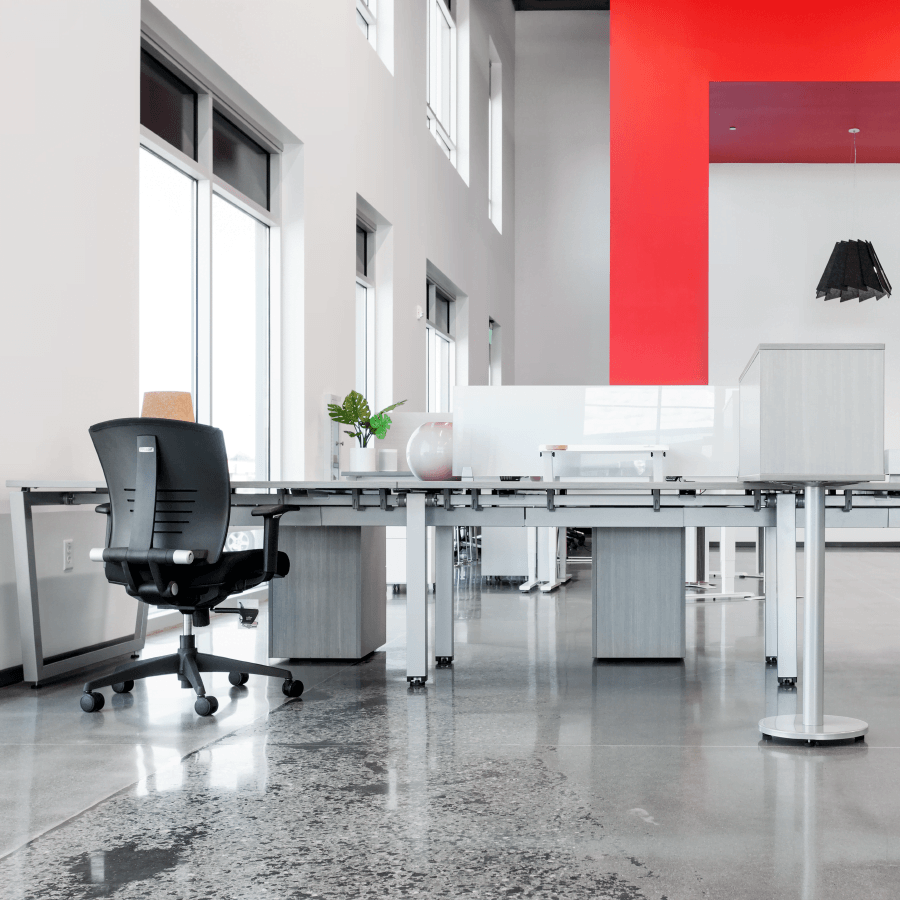 (SRM-0002) Friant Verity – 4 Person Workstation
Cubicle And Workstation Installation
Office Cubicles can be installed quickly if it's handled by an expert team.
Don't worry about hiring a seperate company to install your cubicles, we will leave your space cleaner than we found it.
Delivery and installation within 1 week depending on the choice of cubicles, we carry them in stock.
Can Cubicle Arrangements Make Returning To Work Safe?
The new york times just published an op-ed where they discussed office furniture makeovers for the coronavirus.  This is what they said "the actual disease experts say that a virus-free office environment is a pipe dream. Dr. Rajneesh Behal, an internal medicine physician and the chief quality officer of One Medical, a primary-care chain that recently held a webinar for businesses on how to reopen, said, "A core message is, do not expect your risk goes down to zero." Research shows that the best way to keep employees healthy is to provide a great sick leave policy and encourage workers to stay home when they aren't feeling well. Beyond that, establishing safe workplace distancing protocols supplemented by cubicles and partitions can be extremely helpful. If you are a business working on plans to safely re-engage employees in the workspace, Office Furniture Warehouse is here to help consult with you on solutions.
Shop Office Furniture And Cubicle Options Today!
Cubicle set up delivery and installation is easy for us at Office Furniture Warehouse. We install and break down hundreds of cubicles a month. When you shop for office furniture with us, we have the resources, material, manufacturing and customer support to make your search simple. We have the largest inventory of Instock office product configurations in the entire state of Florida which is one of the great benefits of working with Office Furniture Warehouse. Contact us today at our showrooms in Miami and Pompano!
If you found this article helpful, share it!
Share on facebook
Share on twitter
Share on linkedin
Share on pinterest
Share on reddit