How To Make Office Liquidation Easy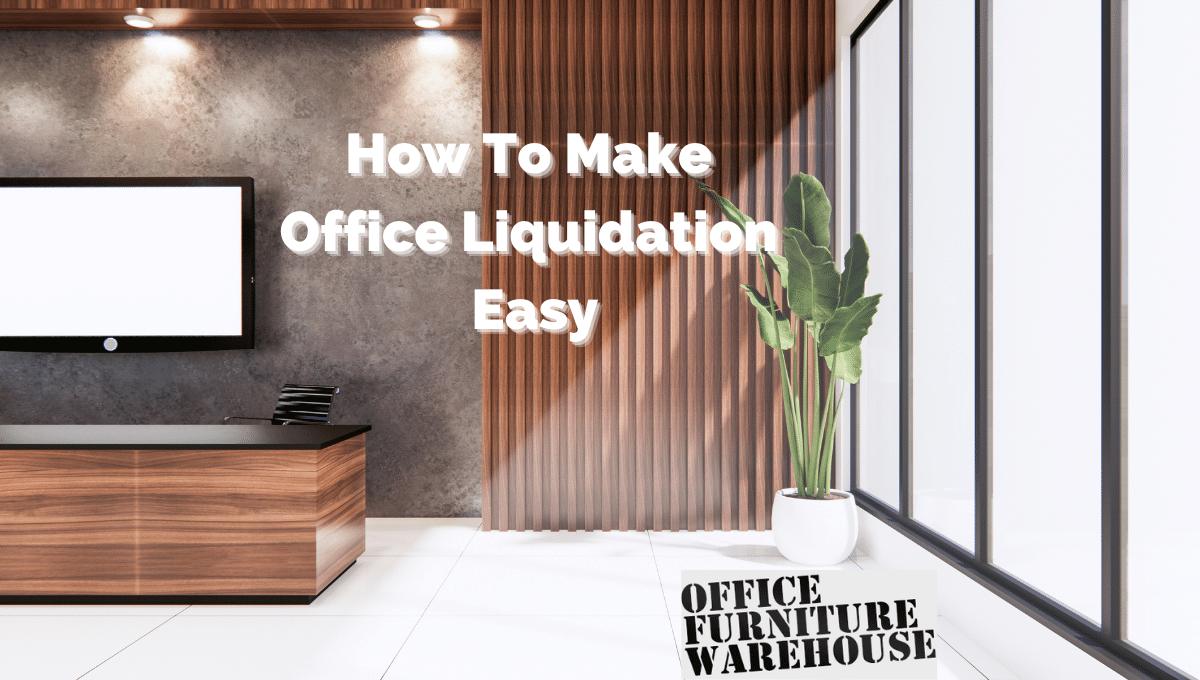 While no business owner wants to go through it, office liquidation is something businesses may have to face, depending on how well they do. Liquidating your office furniture can be a hassle of a task that could get pretty stressful if you do not hire a company that offers liquidation services.
The most important question is what your lease requires your office to look like once you've vacated it and left for a new location. If it stipulates that the space is to be fully cleared out and left in broom-swept condition, then professional office liquidating services are an excellent way to meet that requirement. You may also want to choose professional office liquidating services if you lack the resources and manpower to fully clear out your old office by yourself and don't want to invest in commercial storage services.
Table of Contents
What Is Office Liquidation
Office liquidations are clearing out office space for new tenants to arrive. After an office move, office liquidators will enter the office to fully de-install and dispose of any content left behind, such as furniture, cubicles, workstations, and the like. The now-empty office is then thoroughly cleaned and left in broom-swept condition, making it ready for the new tenant to enter without a hitch.
Before you liquidate your office, call us to learn more about our services

Contact Us
Create A Realistic Timeline
Relocating or closing a business can be a burden. Companies need to be aware of the time frame necessary to inventory, disassemble and remove office furniture. The process can take more than a year to complete. Leaving sufficient time to complete the office furniture liquidation is essential to maximize your return on your office furniture.
Leaving a reasonable amount of time to complete each stage of the process allows you to maximize your return on your office furniture as you won't be rushing to get your furniture out.
Make An Inventory List
When you go with a professional liquidator, they will perform a thorough walk-through of your office and create a detailed inventory list of your assets. The liquidator can accurately make up a pricing plan for when you are ready to get rid of your old office equipment.
Avoid Selling Pieces
While most people think that selling different office furniture by each piece will get them the most return when you sell your inventory as a whole is where you will get the most return. If you let your list be handpicked, you will be stuck with the furniture that no one wanted to purchase. You then will need to properly dispose of the leftovers, which will be an additional cost, and it can offset the money you received from the furniture that was bought.
Businesses that allow the office furniture to be handpicked find themselves left with all undesirable pieces that now require disposal (extra costs). These additional costs can sometimes offset the money received for the handpicked furniture.
Hire Professional Liquidators
Choosing to utilize professional office liquidating services can benefit your business, institution, or organization. By leaving the entire process to the professionals, you can save your company time and money and ensure the job is done right. Choosing professional office liquidators also frees you to focus on the relocation itself, enabling you to concentrate on just the aspects of commercial moving rather than worrying about how to clear out your office in time. In addition, office liquidations eliminate the need for commercial storage. They are also a great way to ensure that your lease conditions are fully met, as most require that old office spaces be vacated and left in a broom-swept state before new tenants arrive.
How We Can Help You
Office moving can seem like a hassle, especially when your lease terms are met and your current office is cleared out in time for new tenants to arrive. You will have additional time to focus on the move itself. That's why office liquidation is an excellent idea for companies of all sizes. Office liquidation helps ensure that your lease conditions are met on a professional and timely basis.  The task left to professional office movers saves your company time and money.
If you are interested in our liquidation or other office services or would like to purchase furniture for your office, contact us today. Our unique mix of experience, professionalism, and commitment cannot be beat!